Aishwarya Mohanraj is a standup comedian, scriptwriter, YouTuber, and content creator. In just 4-5 years, post resigning from her full-time job as a research analyst, she has gained immense popularity with her standup comedy roles, which have made the audience enjoy her performances. Aishwarya Mohanraj is a role model for every female comedian who wishes to do standup comedy on the big stage. She is known for her perfect comic timing. If you want to Book or Hire Aishwarya Mohanraj for your shows, we are here to help you.
Brief Introduction
Aishwarya Mohanraj, nicknamed "Aish", was born in Mumbai, Maharashtra, on 26th July 1994. She did her initial schooling at R.N Podar school. After that, she pursuaed Bachelor of Pharmacy. Aishwarya did not stop here and further completed Masters in Business Administration from NMIS Mumbai. She was always a bright student and was among the class toppers during school and college life. To Book Aishwarya as your preferred standup comedian, let us walk you through her standup comedy journey and other interesting facts.
Read Also: Book Popular Comedian Tanmay Bhat With Thegigs.in 2022
Aishwarya's Standup Comedy Journey
After completing her MBA, Aishwarya worked in Bristol Myers Squibb (A pharmaceutical industry company) in 2016 and at Nielsen as a research analyst in 2017. She was actively involved in extracurricular activities throughout her school and college days. Stage fear was a term that was never associated with Aishwarya. She left her job in 2017 and decided to do standup comedy full-time. The same year, she participated in Comicstaan, a standup comedy show that premiered on Amazon prime. Although she did not win the show, her performance was admired by everyone.
Top 3 Highlights of Aishwarya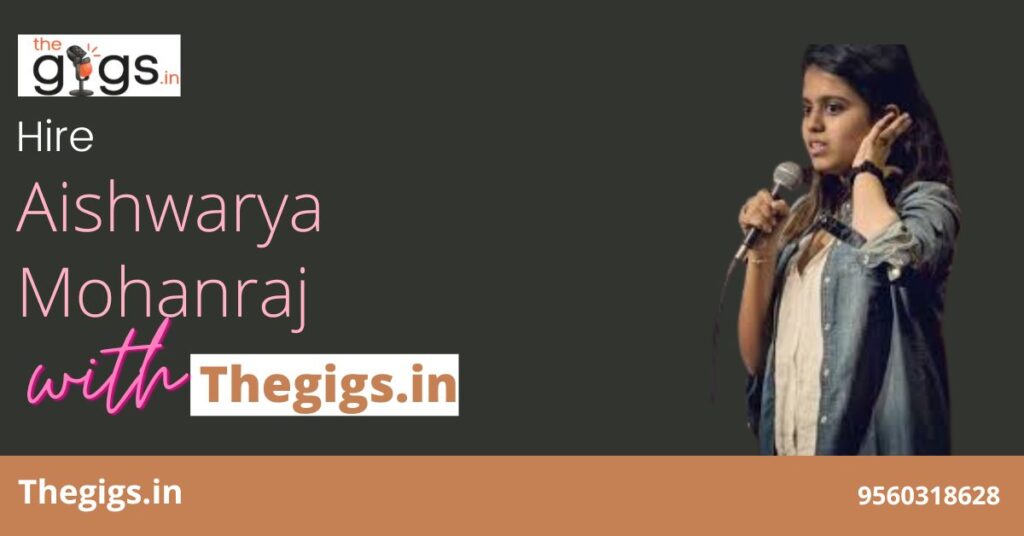 Aishwarya has written shows like the son of Abish, On Air with AIB, Comicstaan season 2, One-night stand, etc.
She is a trained classical dancer
Aishwarya has her youtube channel with the name "Aishwarya Mohanraj" and has close to 6.5 lakh subscribers.
Read Also: Hire Popular Comedian Kunal Kamra with Thegigs.in 2022
FAQs
Q. Is Aishwarya Mohanraj married?
Ans. No, Aishwarya is not married, but she is dating Aakash Singh
Q. Does Aishwarya do smoking?
Ans. No, Aishwarya does not smoke
Q. What is the height of Aishwarya Mohanraj?
Ans. The height of Aishwarya is 5 foot 4 inches.
Q. What is the monthly income of Aishwarya Mohanraj?
Ans. The monthly income of Aishwarya is around Rs 1.2 Lakhs
Hire Aishwarya Mohanraj for your shows with TheGigs.in
Aishwarya Mohanraj is one of the most versatile comedians in India. TheGigs.in has partnered with Aishwarya Mohanraj for standup comedy shows. We are an artist-hiring agency that focuses on giving the best platforms for budding artists to showcase their talent. We have organized more than 400 shows across big cities of India such as Delhi, Kolkata, Bangalore, Mumbai, Gurgaon, Noida, etc. If you want to Book or Hire Aishwarya Mohanraj, you can call us on the number mentioned on our website, and we will get back to you within 24 hrs.